SUPERDEALS:
WE OFFER SUPERDEALS TO MANY DESTINATIONS!!
Australia
Free
Denmark
Free
Netherlands
Free
Poland
Free
Romania
Free
Sweden
Free
United Kingdom
Free
Use your credit for Mobile Calls!
Make good use of your credits and make cheap regular and mobile (international) phone calls via our local access number:
Select the country you are calling from:

Select nearest city/region:
Here's how it works:
Add your home and/or mobile phone number on the settings page
Select the country you are calling from
Call the local access number and dial the international number you wish to call.

more info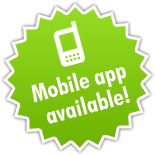 Nonoh works!
HOW DOES IT WORK?
Type in your phone number
Type in your friends phone number
Click "CALL"
Your phone will ring -
pick up -
start talking!
---
Having trouble?
Click here to get help